Perovskite-based building integrated photovoltaic systems can drastically reduce the environmental footprint of the European energy mix
Posted by R2ES Laboratory
On 8 Dicembre 2021
0 Comments
A prospective life cycle assessment study carried out within the European ESPResSo-project consortium reveals that the environmental footprint of perovskite-based BIPV systems will be highly competitive compared to other technologies in the future European energy mix. Scaled-up production, improved efficiency and longer lifespans will drastically improve the energy sustainability of such systems in the coming years. Between 2030 and 2040 the environmental benefits of commercialization of perovskite-based BIPV systems to the energy mixes in several European countries will be highest. Consequently, this could be pointed out as the right time to deploy these technologies in the market.
Grounding on a cross-evaluation of the technological improvement for BIPV and composition of various national electricity mix scenarios, the analysis provided insights about the time horizon when the deployment of perovskite modules might be most effective in future energy markets in terms of avoided greenhouse gases emissions per MWh of generated electricity.
For example, with a carbon footprint ranging from 800 kg of CO2 eq/MWh in 2020 to 14 kg of CO2 eq/MWh in 2060, perovskite-based BIPV installations on vertical façade could contribute to effectively mitigating the eco-profile of many European countries' energy mix already at the level of business-as-usual scenario. This benefit would be particularly relevant in the range between 2030 and 2040 where the transition to a decarbonized energy system might be still in progress.
"With an innovative methodological approach, the prospective LCA allowed an estimation of the future potential impact of perovskite-based systems designed for buildings. Thanks to the active collaboration of the multidisciplinary ESPResSo consortium, we could perform the analysis supporting the calculation with reliable scale-up scenarios. Identifying a specific application for perovskite-based systems is a key point to obtain robust LCA results and, finally, bridge the gap between general benchmarks and evidence-based data that could support decision-making in the energy sector.", says Prof. Adalgisa Sinicropi, CSGI team leader.
The study was coordinated by Dyenamo AB , Sweden, and performed by CSGI, Italy, and is based on the effective fabrication and installation of a 3-meter wide BIPV panel, realized within the frame of this H2020 ESPResSo project. "Materials and processes developed by several partners have been assessed and selected, to produce perovskite modules on a size of 35x35cm2. Eight of such modules fabricated by imec, in Belgium, have been assembled at Onyx facilities, in Spain, in a glass-glass panel. This is shipped then for installation at a facade at Cyprus university, where it is currently being monitored in real outdoor conditions. So, next to the state-of-art R&D work, also several logistic challenges have been faced – and overcome – to realize this demonstrator result.", says Dr Tom Aernouts, project coordinator.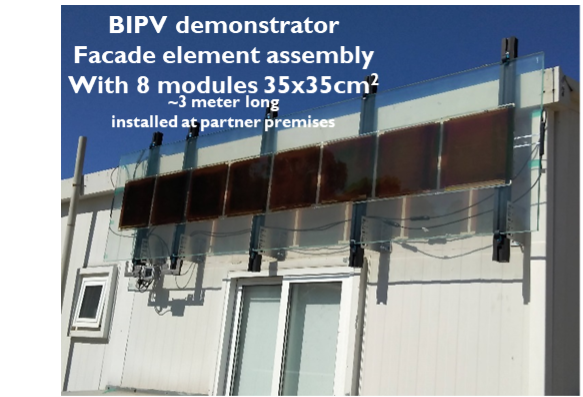 ESPResSO is a three-year Horizon 2020 project funded by the European Commission dedicated to realize the ambitious target of making perovskite solar cells a market reality. Consequently, the ESPResSo team covers the full spectrum of expertise ranging from fundamental studies to industrialization via e.g. studies of sustainability issues and development of materials, process technology and prototypes. The members of the consortium are coordinator IMEC (Belgium), EPFL (Switzerland), CHOSE – University of Rome "Tor Vergata", CNR and CSGI (Italy), Fraunhofer (Germany), University of Cyprus, Dycotec and M-Solv (UK), Onyx (Spain), Corning (France), Saule (Poland) and Dyenamo (Sweden).